Community Park Splash Pad Now Open
September 7, 2023
Timnath Community Park's highly anticipated splash pad is now open! This exciting addition to Phase 3 of the park is sure to provide endless enjoyment for our Town!
Here's everything you need to know to make a splash:
Location: Timnath Community Park, 5500 Summerfield Parkway, Timnath
Operating Hours: Daily from 10 am to 6 pm
Activation: The Splash Pad is operated by a convenient push-button actuator that runs for 4-minute intervals, ensuring a consistently enjoyable experience for all and keeping the environment in mind.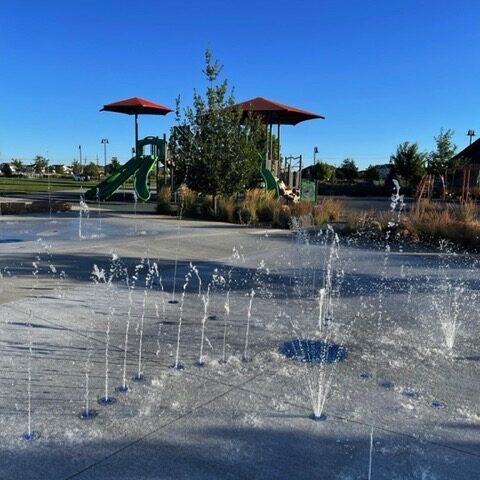 Phase 3 of Timnath Community Park, constructed by ECI Site Construction Management Inc. with a $2.415 million budget, is now home to an array of exciting amenities, including this splash pad, six pickleball courts, two tennis courts, and a basketball court. This accomplishment represents the culmination of a visionary master plan for the 25-acre park, adopted in 2015.
The decisions on these enhancements were informed by valuable feedback from our residents, collected through a comprehensive survey. The community's top preferences were clear, highlighting the importance of a splash pad, basketball court, pickleball court, tennis court, and a rentable pavilion.
We extend our heartfelt gratitude to the Town Council, dedicated staff, Planning Commission members, and the PROST (Park, Recreation, Open Space, Trails) Committee for their unwavering commitment to making this dream a reality.
Let the splashing begin! Timnath Community Park's Splash Pad is open and ready for you!